FeatureInfo¶
This element provides feature info capabilities to Mapbender. It works with WMS.
As an example serves the WMS 'Krankenhäuser NRW' (http://www.wms.nrw.de/wms/krankenhaus?) from 'Ministerium für Gesundheit, Emanzipation, Pflege und Alter NRW'.
Configuration¶
The element FeatureInfo will be integrated in the 'content':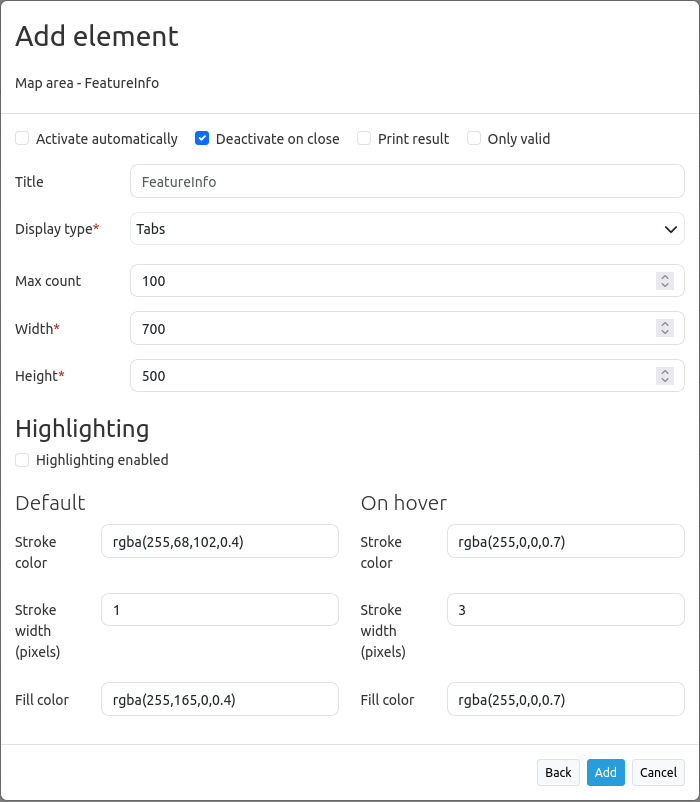 Auto-open: Enable or disable autoopening of the copyright window when starting the application (default: false).
Deactivate on close: True/false to deactivate the functionality after closing the result dialog.
Print Result: Offer a link to print the result of FeatureInfo (default: false).
Title: Title of the element. It will be indicated next to the button.
Target: ID of Map element to query.
Type: Type of the information, Element or Dialog (default and mandatory: Dialog).
Display type: Display of the information, tabs or accordion.
Max count: Maximum number of results that should be displayed in the result dialog.
Width/Height: Width/height of the dialog in px.
Show original: Show the CSS-style of the original feature info result (default: true).
Tooltip: Text used as a tooltip. It will be indicated when hovering with the mouse cursor over the button. It also used as a header in the copyright window.
A button is also needed. Further information on how to configurate a button: Button.
Class, Widget & Style¶
Class: Mapbender\CoreBundle\Element\FeatureInfo
Widget: mapbender.element.featureInfo.js
Style: mapbender.elements.css